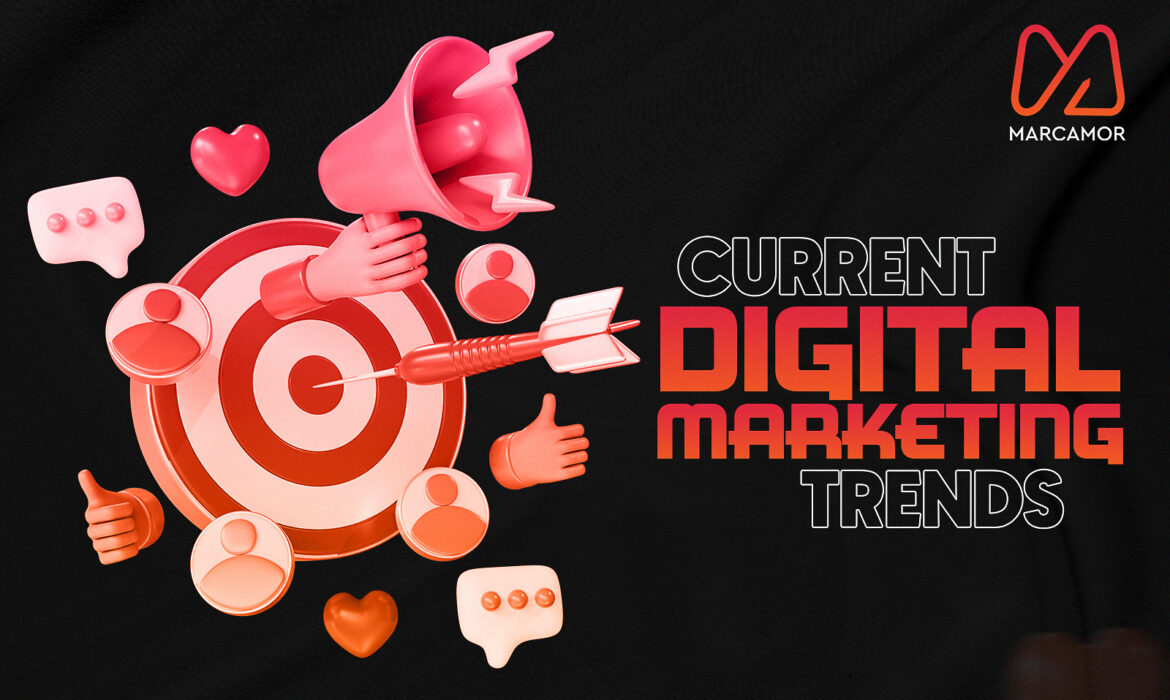 Introduction
In today's fast-paced world, digital marketing has become an indispensable aspect of any successful business. Staying updated with the ever-evolving landscape of digital marketing is crucial to remain competitive and reach the target audience effectively. In this article, we will explore the most Current Digital Marketing Trends that are shaping the industry and discover how businesses can leverage these trends to their advantage. From cutting-edge strategies to innovative tools, at Marcamor we've got you covered with the latest insights to boost your marketing efforts.
Current Digital Marketing Trends
1. Voice Search Optimization: Harnessing the Power of Voice
With the rise of voice-activated devices like smart speakers and virtual assistants, voice search has taken the digital world by storm. Optimizing your content for voice search is no longer an option; it's a necessity. Long-tail conversational keywords and natural language play a pivotal role in voice search optimization, enhancing user experience and driving more organic traffic to your website.
2. Artificial Intelligence (AI) in Marketing: Embracing the Future
AI has revolutionized digital marketing, offering powerful insights, automation, and personalization. From chatbots providing real-time customer support to AI-powered content curation, integrating AI into marketing strategies can streamline operations and enhance customer engagement, resulting in improved ROI.
3. Video Marketing: Captivating Audiences with Visual Storytelling
The popularity of video marketing continues to soar, captivating audiences across various platforms. Engaging video content has the potential to convey messages effectively, evoke emotions, and drive actions. Leveraging video platforms like YouTube, TikTok, and Instagram Reels can boost brand awareness and foster a deeper connection with your target audience.
4. Influencer Marketing: Leveraging the Power of Influencers
Influencer marketing has become an integral part of digital strategies, as consumers tend to trust recommendations from influencers they follow. Collaborating with relevant influencers can expand your brand's reach, create authentic connections, and increase conversions. However, it's essential to choose influencers whose values align with your brand to maintain credibility.
5. User-Generated Content (UGC): Building Trust through Authenticity
User-generated content, such as customer reviews, testimonials, and social media posts, has a significant impact on building trust and credibility. Incorporating UGC into your marketing campaigns can enhance brand authenticity, drive social proof, and encourage potential customers to take action.
6. Personalization: Tailoring Experiences for Individual Customers
Customers expect personalized experiences tailored to their preferences and behaviors. Utilizing data-driven insights, businesses can deliver targeted content, product recommendations, and tailored email campaigns, resulting in higher customer satisfaction and increased loyalty.
7. Interactive Content: Engaging Users for Longer Duration
Interactive content, such as quizzes, polls, and interactive infographics, is a great way to captivate users and keep them engaged for more extended periods. This trend not only boosts brand interaction but also helps gather valuable data about consumer preferences.
8. Social Commerce: Simplifying the Path to Purchase
Social media platforms have evolved into more than just networking spaces; they have become powerful marketplaces. Integrating social commerce into your marketing strategy enables seamless shopping experiences, reducing friction in the path to purchase.
9. Augmented Reality (AR) and Virtual Reality (VR): Enhancing Customer Experiences
AR and VR technologies are transforming the way customers interact with products and services. Implementing AR/VR experiences can provide customers with a virtual try-before-you-buy experience, leading to higher engagement and reduced product returns.
10. Chatbots and Customer Service Automation: Providing 24/7 Support
Chatbots have emerged as a valuable tool for businesses to deliver instant customer support and assistance round the clock. Integrating chatbots into your website and social media platforms can enhance customer satisfaction and reduce response times.
11. Sustainable Marketing: Embracing Eco-Friendly Practices
With increasing environmental awareness, consumers are gravitating towards eco-friendly brands. Implementing sustainable marketing practices not only demonstrates corporate responsibility but also appeals to socially-conscious customers.
12. Shoppable Posts: Transforming Social Media into Sales Channels
Shoppable posts on platforms like Instagram and Facebook allow customers to make purchases directly from the platform, eliminating the need to navigate to an external website. This frictionless shopping experience can boost impulse purchases and increase conversions.
13. Micro-Moments: Capturing Attention in Real-Time
Micro-moments refer to those brief periods when users turn to their devices to fulfill an immediate need or answer a question. Understanding these moments and providing relevant, quick solutions can help brands establish a deeper connection with their audience.
14. Omnichannel Marketing: Seamlessly Integrating Platforms
Omnichannel marketing ensures a consistent brand experience across multiple platforms, including websites, social media, email, and brick-and-mortar stores. Creating a cohesive brand journey enhances customer loyalty and drives cross-channel conversions.
15. Social Media Stories: Fostering FOMO and Urgency
Social media stories, ephemeral content that disappears after 24 hours, have gained immense popularity. Utilizing stories on platforms like Instagram and Snapchat can create a sense of urgency, tapping into the fear of missing out (FOMO) and encouraging immediate action.
16. Data Privacy and Security: Earning Customer Trust
With increasing concerns about data breaches and privacy violations, customers demand stringent data protection measures. Prioritizing data privacy and security not only ensures compliance with regulations but also builds trust with your customer base.
17. Interactive Email Marketing: Increasing Email Engagement
Adding interactive elements to your email campaigns, such as clickable buttons, quizzes, and image carousels, can significantly boost email engagement rates. Encouraging subscribers to interact with your emails can lead to increased website traffic and conversions.
18. Social Listening: Understanding Customer Sentiment
Social listening involves monitoring online conversations to gauge customer sentiment towards your brand and products. Analyzing these insights can help businesses adapt their marketing strategies and improve overall customer satisfaction.
19. Micro-Influencers: Focusing on Niche Audiences
Micro-influencers, with smaller but highly engaged audiences, can offer more personalized and authentic recommendations. Partnering with micro-influencers can help brands target specific niches and foster genuine connections with their followers.
20. Live Streaming: Real-Time Engagement
Live streaming has emerged as a powerful tool to engage audiences in real-time. Platforms like Facebook Live and YouTube Live enable brands to showcase events, product launches, and behind-the-scenes content, fostering a sense of community and interaction.
21. Social Proof Marketing: Leveraging the Wisdom of the Crowd
Social proof, in the form of customer reviews and testimonials, can significantly influence purchase decisions. Highlighting positive reviews and user-generated content can boost brand credibility and encourage potential customers to convert.
23. Social Responsibility Marketing: Making a Positive Impact
Consumers are increasingly conscious of brands' social and environmental responsibility. Marketing efforts that showcase a brand's commitment to charitable causes, sustainability, and community engagement can resonate strongly with customers and foster a positive brand image.
24. Inclusive Marketing: Embracing Diversity and Representation
Inclusive marketing emphasizes the importance of representing diverse identities and experiences in advertising campaigns. Brands that authentically portray inclusivity can attract a broader audience and cultivate a sense of belonging among customers.
Conclusion
As the digital landscape continues to evolve, staying informed about the latest Current Digital Marketing Trends brands can create innovative and impactful marketing strategies that resonate with their target audience. As technology advances and consumer preferences evolve, it's vital for businesses to stay adaptive and flexible in their marketing approaches.
Remember, successful marketing is a combination of creativity, data-driven insights, and a genuine understanding of your audience's needs. By staying current with the trends and implementing strategies that align with your brand's values, you can confidently navigate the ever-changing digital marketing landscape and elevate your business to new heights.
FAQs
Q: What are the current digital marketing trends?
A: The current digital marketing trends include voice search optimization, AI integration, video marketing, influencer collaborations, user-generated content, personalization, interactive content, social commerce, AR/VR experiences, chatbots, sustainable marketing, shoppable posts, and more.
Q: How can businesses benefit from voice search optimization?
A: Voice search optimization can enhance user experience, increase organic traffic, and improve search engine rankings. By incorporating conversational keywords and natural language in content, businesses can better cater to voice-activated device users.
Q: What is the significance of influencer marketing?
A: Influencer marketing allows brands to leverage the credibility and reach of influencers to connect with their target audience. Collaborating with relevant influencers can expand brand awareness, foster authentic connections, and drive conversions.
Q: How does interactive content boost engagement?
A: Interactive content, such as quizzes and polls, captivates users and keeps them engaged for longer periods. It encourages active participation, leading to increased time spent on the brand's website or social media platforms.
Q: What is social commerce, and why is it important?
A: Social commerce involves selling products directly on social media platforms. It simplifies the path to purchase for customers and reduces friction in the buying process, potentially increasing conversions and sales.
Q: Why should brands focus on sustainable marketing?
A: Sustainable marketing showcases a brand's commitment to environmental and social causes, resonating with eco-conscious consumers. Emphasizing sustainability can enhance brand reputation and attract socially responsible customers.